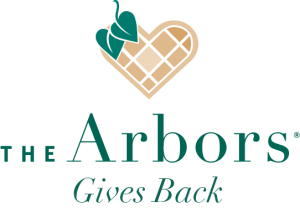 "A Round To Remember"
The Arbors Gives Back Presents Our 8th Annual Golf Tournament Benefiting The Alzheimer's Association.
RESERVE YOUR SPOT TODAY
The Arbors Gives Back is a nonprofit, philanthropic organization dedicated to raising funds to serve the needs of the local community. By forming alliances with The Arbors employees, residents, their families and local businesses The Arbors Gives Back regularly raises funds for numerous organizations such as Meals on Wheels, The Alzheimer's Association and local senior centers.
At the Arbors, we are always striving to enrich the lives of our residents. The effort to maintain an active profile in the community is a reflection of this goal. We believe that our residents receive a sense of purpose and well-being when they can affect positive change.
How We Got Started
The Arbors Gives Back was founded in 2008 after Sondra Jones, Marketing Director from The Arbors at Chicopee, and Lisa Holt, Executive Director, were searching for a way to connect the assisted living residents to the local community in Chicopee, Massachusetts. Sondra and Lisa, along with fellow employees, residents and local businesses joined together to host the first fundraising event. In one evening, a dinner dance called "A Night to Remember" raised over $3,000 for the Alzheimer's Association.
The momentum was started, and with the persistence and vision of Sondra and Lisa, there was no stopping it. Soon there were craft fairs, raffles, knitting groups and walking clubs in each of the Arbors locations, all organized and staffed by dedicated residents, employees and families. In 2011 the second annual "Round to Remember" Golf Tournament raised over $15,000 for The Alzheimer's Association.
Since its humble beginnings, The Arbors Gives Back has continued with our mission to serve the needs of our residents by helping them to serve the needs of the community. We believe the desire to serve is innately human and knows no age.