When a resident requires more personal care than can be provided by our team, we work with the family, physician and partner providers such as Hospice, Home Health, Skilled Nursing, Physical Therapy and more to find a solution that better fits the Resident's needs.
Unfortunately we do not allow residents to have pets in their apartments as we need to take into consideration all of our residents' health conditions which may include possible allergies or asthma. However, we do allow well behaved visiting pets so your furry friends can come anytime.
No you are not stuck! However, most of our communities require a community services assessment fee upon signing a residency agreement. We do require 30 day's written notice prior to moving out of the community.
Yes, we do offer short-term stays or Respite at many of our communities. A short-term or respite stay is a useful option when planned or unforeseen circumstances occur such as a family vacation or recovery from an illness. Some people like to "try it out" before they make a decision, and short term or respite stays are a great way to do this.
Yes! We want you to feel at home. Having your own belongings that you know and are comfortable with will help make the transition to your new home an easy one.
As The Arbors is our residents' home, we welcome visitors and have no set hours.
In assisted living, we serve three meals a day with multiple options at each meal. These options typically include a hot meal, a sandwich, a salad and various other available options. You can choose the seating time you prefer and will be served restaurant-style in our beautiful dining room. Each Arbors community also has a Pub, which is open 24 hours a day, 7 days a week, where our residents can grab a snack or beverage at anytime.
We have nurses either in the community or on call 24 hours a day, seven days a week. Our nurses do not provide skilled nursing care.
Upon move-in, our nurses will assess your personal care and service needs, obtain an updated medical evaluation form from your doctor and review your medical history with you to see how we can best tailor your services to fit your needs. Our nurses will also discuss with you your preferences such as specific foods you dislike or may be allergic to ,as well as your normal routines , such as the time you start your day. This all will help to develop a personal care plan known as a "Service Plan" that's tailor made for you. The Service Plan details your personal care plan and is updated as necessary to meet your changing needs.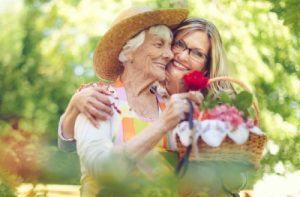 Have More Questions?
Deciding to help a loved one transition to a senior living option is not an easy decision. We can help you get the clarity, answers, and support needed to lessen your worries and take the next steps.
Click the button below to let us know how we can help you further.