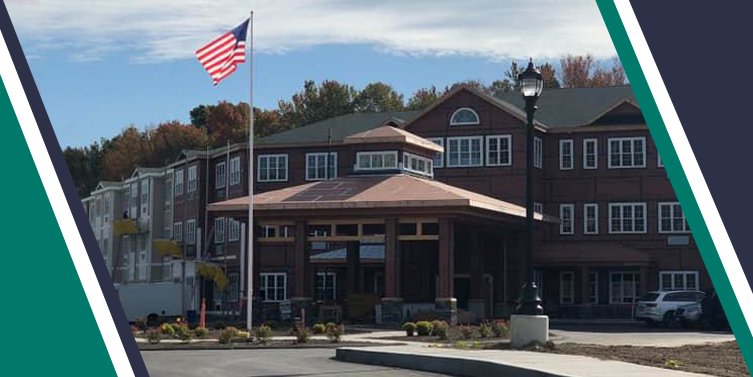 Older adults in Watertown, Connecticut, and the surrounding areas will soon have a new option for senior living. In January 2020, The Ivy at Watertown will officially open its doors, becoming the newest assisted living and memory care community in the Watertown, CT area.
The Ivy and The Arbors Family
The Ivy assisted living and memory care communities are sister communities of The Arbors, a well-established family-owned and -operated business that has been providing excellence in senior living since the 1980s.
The Ivy at Watertown will be the second Ivy community in Connecticut, following the successful opening of The Ivy at Ellington in 2018. With The Ivy at Watertown, The Ivy and The Arbors now consists of 9 residential communities scattered throughout Connecticut and Massachusetts in Amherst, Chicopee, Dracut, Greenfield, Stoneham, StTaunton, Westfield, and Winthrop.
"A lot of times when people know we're not corporate, there's a sigh of relief," Hanrahan says. "You don't have to climb the corporate ladder to get answers. We're always in the building. We're right on-site and available."
Adds cousin and co-owner Sara Robertson: "Our objective isn't to make decisions based solely on money; it's based on caring for our residents and staff as if they are a part of our family."
The cousins take pride in continuing the Gralia family tradition of making a difference in people's lives with a family-first and community-driven focus. And in a city where 1 in 7 residents are over the age of 65, Watertown was eager to welcome The Ivy to the family, too.
The diligent efforts of Economic Development Coordinator Joe Seacrist and Town Planner Mark Massoud helped drive the project smoothly through the planning and approval process.
"Without the support of the town, a project of this magnitude would never happen," says Jason Robertson, Principal for The Gralia Group, the parent company for The Arbors and The Ivy. "We are so pleased to have the opportunity to serve Watertown and the surrounding communities. This location, with its close proximity to the town center and major highways, is a perfect match for us, and we look forward to serving the community."
The Ivy at Watertown serves the communities of Watertown, Waterbury, Middlebury, Woodbury, Bethlehem, Morris, Thomaston, Plymouth, Wolcott, and the surrounding areas.
All-Inclusive Assisted Living
Located in the heart of Watertown, at 655 Straits Turnpike, The Ivy at Watertown will offer 60 traditional assisted living apartments as well as 29 apartments in a specialized memory care environment called Reflections.
Unlike many other senior living communities in the area, The Ivy at Watertown has an all-inclusive pricing structure, which means one monthly fee covers:
The cost of the apartment
Utilities (except phone and television)
24-hour staffing
Weekly housekeeping, including flat linen services
Cultural, educational, and social activities
Scheduled transportation
Maintenance
Because The Ivy at Watertown is a rental community, this also means there are absolutely no entrance fees, or a complicated medical and financial qualification process. Residents choose from a variety of living options, including studios, one- and two-bedroom apartments, and companion suites. Each apartment comes with a variety of amenities, including a modern kitchenette, private bathroom with a walk-in shower, and a spacious living room with window blinds and wall-to-wall carpeting.
The Ivy at Watertown will also feature an elegant dining room that serves fresh, locally sourced food, a private dining room for special events and family get-togethers, a community room and sunroom, a theater and a pub, barber/beauty salon services, and four-season porches, patios and courtyards, and gardening areas.
Residents can expect to enjoy an independent lifestyle and can rest easy knowing that assistance is available if and when they need it. Caring and compassionate staff offer an extensive range of personal care services, from helping with bathing and dressing to offering medication reminders.
"The Ivy at Watertown offers the perfect mix of the independence needed to live your own life and the community and support needed to help you thrive," says co-owner Amie Hanrahan.
A Great Place to Work and Live
At The Ivy assisted living and memory care communities, staff are treated like family, too.
"We are family taking care of family," says Lindsay Redin, Executive Director of The Ivy at Ellington, the first Ivy community in Connecticut. "As executive directors, we have the ability to call an owner and say: 'This is my issue. What do you think we should do?' We can talk through individual cases and figure out what works best for the person in the community."
Adds Carrie Wilson, Program Director of Reflections Memory Care at The Ivy at Ellington: "What I love most about this community is the purpose of why we're working here — to better the lives of the residents."
If you are interested in joining The Ivy family as a Resident Care Aide, Wellness Nurse, Registered Nurse, Licensed Practical Nurse, or Resident Care Director, fill out an application. For all other positions, including positions in marketing, housekeeping, maintenance, food service, transportation, activities, and administration, please fill out this application.
Send your completed application, resume, and cover letter to careers@arborsassistedliving.com with the position you are applying for as well as 'The Ivy at Watertown" in the subject line.
"It's a place where you can feel at home and be treated like family," Hanrahan says.
Want more information about The Ivy at Watertown, its family-first philosophy — and the really important stuff, like what the food tastes like and how much it really costs?Request more information from The Ivy team today!
{{cta('8b55eded-ec63-4ba2-ad36-87b1a7be9903′,'justifycenter')}}