March marks Women's History Month
a time for celebrating women's milestones and their extraordinary roles in all aspects of society. We would like to take this opportunity to acknowledge all of the hard work and dedication of the women at the Arbors and Ivy Assisted Living communities!
As the third generation, we are now a women-owned business, as well. Businesses as a whole are falling short when it comes to women's representation in positions of influence. For example, women hold just 4% of leadership positions in Fortune 500 companies. It's no secret that women have historically faced greater barriers than men in the workplace. The disparities between men and women persist in the forms of pay gaps, uneven opportunities for advancement, and unbalanced decision-making opportunities. Having female leaders in positions of influence to serve as role models is not only critical to the career advancement of women, but it can also create a larger impact on workplace policies and dynamics.
Women are equally as qualified to be in leadership roles, and we believe it's crucial for women and men to have the same opportunities for advancement. It will be important for the next generation of young women to see role models in leadership positions. As the leader of a growing company, I have experienced both the positives and the negatives of being a woman in a CEO role. I have felt increased pressure at times, and feel like I have to work harder to prove that I am capable of holding this position. I often still feel like I have to prove myself in this role. I personally hope my daughter can see me in my leadership role, observe my success, and have the confidence one day to know that she, too, can be a leader. I want her to know that she can make a difference in the world!
As a woman in business, I am driven by a sense of purpose: the belief that our company can and will have a positive impact on the communities we serve. I am motivated to make a difference for our employees by creating a supportive, positive culture in the workplace. As a woman in a leadership role, I believe that it takes courage, risk-taking, strong communication, humility, empathy, and resilience to find success. Studies show that two-thirds of women never realize that they could be CEO until a boss or mentor encourages them. I can attest to that as accurate. I never envisioned myself in this role as a younger woman and was shown by a mentor a decade ago what I was capable of. Once my eyes were opened to what was possible, I was determined to put in the hard work and dedication to make it my reality.
Our company has women in senior management, regional roles, executive director positions, department heads, caregivers, and beyond. We are trying to do our part in forward progress for women in the workforce. We are excited to see women in leadership roles, acting as strong managers and as champions of diversity, equity and inclusion. Our team is made up of loving, kind, warm, and caring individuals who truly make our communities home for your loved ones, and treat them like they are part of the family.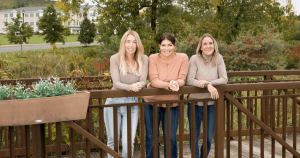 We know that women still have ground to make up in the workplace when it comes to equality. Women are still underrepresented in leadership roles. Women still have to face belittling microaggressions, the double standard of being a mother versus a father, and the burn-out factor from the work-life balance they must manage. It is a work-life balance issue to contend with that most men do not have to consider. With all the advancements that women have made in the workforce, they are often still the primary caregivers at home. Women often carry the physical and mental load of running the household, arranging childcare and activities for their children and so much more. In our industry, we often see the oldest daughter as the primary caregiver for their parents, which we know is likely in addition to being the primary caregiver for their own children. Women wear many hats, and it can come at a cost.
We believe it's imperative for women to find the support they need to withstand all the pressures in their lives. To us, this means asking for help when you need it. Find a support system you can rely on so that everything doesn't solely fall on you when the days get complicated. Take time for yourself, because you cannot pour from an empty cup, and no one can take care of yourself but you. Remember that pushing yourself to the limit all of the time isn't sustainable. Avoid burnout by eliminating what you can off your plate. Finally, have patience with yourself, because we are all human. Yes – you ARE a superwoman – but life is hard! Don't forget to give yourself some grace and reflect on all that you are achieving. Be proud of your accomplishments, and be aware that it's likely someone younger is watching you and wondering if they, too, can do it all!
We extend a sincere and heartfelt THANK YOU to all the women who make up the Arbors and Ivy Assisted Living communities. Your hard work and dedication speaks volumes to who you all are. We value and appreciate each and every one of you daily.
"Fight for the things that you care about, but do it in a way that will lead others to join you."
– Ruth Bader Ginsburg