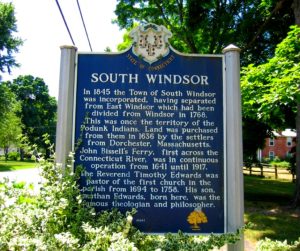 The historic and quaint town of South Windsor is a lovely place to live. Offering the best of both worlds, all the amenities and shopping needs one could have at places like The Promenade Shops at Evergreen Walk while still maintaining a small-town feel. Nestled just north of South Windsor you'll find The Ivy at Ellington. One of the newest assisted living residential communities from The Arbors Assisted Living Residential Communities. Ellington offers South Windsor the very best in assisted living options from independent one and two-bedroom apartments to assisted living or even respite stays. Located on scenic Crystal Lake, The Ivy at Ellington offers an elegant home-like environment. Residents can enjoy many amenities, including dining on local culinary favorites, participating in engaging and enriching social opportunities, and quality personal care services daily.  We are so proud of our resident Veterans and welcome anyone looking for a veteran assisted living community. Come check us out.
The Ivy at Ellington offers many levels of care. Please contact us at (860) 698-8613 for more information regarding this.

We know that making the decision to move into an assisted living facility can be a difficult one, but our friendly staff are here to make the transition as smooth as possible. For South Windsor residents The Ivy at Ellington offers quality retirement care close to home. We are conveniently located on Route 83 with nearby access to Route 91 and Route 84.
CT Privacy Protection Policy
In the normal course of our business, we may request or receive Social Security numbers from residents, prospective residents, employees, job applicants and others. We will take reasonable measures to protect the confidentiality of Social Security numbers and limit access to those with a need for such information. We prohibit the unlawful disclosure of Social Security numbers.
How to Find Us
Although our physical location is in Ellington, CT we are only a short 15-minute drive away making The Ivy a wonderful choice for people looking for a quality assisted living community near South Windsor. CT. 
The Ivy at Ellington, Connecticut
123 West Road • Ellington, CT 06029
Phone (860) 698-8613 • Fax (860) 926-0223
Call Today for a Free Personalized Visit
What Our Families Say About Our Assisted Living Community on Google
The Ivy at Ellington has made a huge difference to my family. My mother moved into her apartment here a year ago. The building is quite lovely and the apartments are compact but really well designed to be both functional and pleasant. High ceilings and huge windows make them feel airy and full of light. But most important is the people. My Mom had lived in an independent retirement community an hour away where pandemic restrictions made it feel like she was in prison. Just trying to meet her basic needs (groceries, etc.) while keeping her safe in a place with no support system was scary and enormously stressful. It took me a while to fully realize and adjust to the fact that The Ivy is proactively looking out for the safety and well-being of the people who live there—physical and emotional. It's well managed, but most important, it's the caring and warmth of the people who work there that stands out. From reception to resident care, activities, business office, maintenance, to the director herself, people are warm, friendly, accessible and open to problem-solving. That's been so important in these extra-challenging times. They've really embraced my mom and our whole family. The decision to make the move to assisted living is hard. Then you have to find the right community. We're grateful we found The Ivy, where our mom is safe and genuinely cared about as a person. That's made a profound difference for us.
Helen C
⭐⭐⭐⭐⭐
When Should You Consider Assisted Living?
Some seniors need help with everyday tasks, and assisted living is the perfect option to give them the support they need. At The Ivy at Ellington, our staff can assist with getting dressed, bathing, and making sure medications are taken properly. We can also work with specific care plans to address poor nutrition or other individualized needs.
Our mission at The Ivy is to provide genuine care and comfort for our residents to enhance their quality of life. An important aspect of this exceptional service are the personalized Service Plans that are created for each one of our residents to make sure that their unique care needs and preferences are being provided for in the best possible way.
We are dedicated to meeting the individualized needs of each resident 24/7. Our assisted living communities, like the one in Ellington, CT, help residents in South Windsor and other surrounding areas be able to live close to the community they are familiar with while receiving excellent care and support. This allows them to be able to enjoy a life they choose with the comforts of home through a variety of living options, amenities, assistance, services, dining options, social programs and customized personalized care.