For the first time in U.S. history, there are more than 50 million seniors, according to the U.S. Census Bureau, which means there are more than 50 million people who love and care for them — spouses, partners, family members, friends, neighbors who assist with activities of daily living, medication management, finances, arrangement of care, and more.
The first profile of the average family caregiver emerged in 1997 with the Caregiving in the U.S. study. Since then, related studies have been conducted, and the newest baseline for examining the state of caregiving today is a 2015 survey conducted by the National Alliance for Caregiving and AARP.
The core areas that examined in this study include:
The prevalence of caregivers in the United States
Demographic characteristics of caregivers and care recipients
The caregiver's situation in terms of the nature of caregiving activities, the intensity and duration of care, the health conditions and living situation of the person to whom care is provided, and other unpaid and paid help provided
How caregiving affects caregiver stress, strain, and health
Information needs related to caregiving
Public policy and caregiver support
Key Findings of Caregiving in the U.S.
According to the survey, 34.2 million Americans provide unpaid care to an adult age 50 or older. Although caregiving experiences can be relatively easy to manage, they can also be challenging and stressful.
That's because caregivers are often performing tasks beyond helping with bathing and mowing the law. They're frequently helping with more advanced care that health care professionals might typically perform, such as medication administration, tube feedings, and catheter care.
Although caregivers are acting as advocates and communicators on behalf of their loved ones, they also want to discuss their own care needs with health care professionals. Many expect to be in the caregiver role for the next five years.
Planning for future care is key to caregivers' well-being and their ability to continue providing care, including helping them balance paid employment and unpaid care.
A Closer Look at Your Fellow Caregivers
If you are one of the many caregivers who experience the sometimes unexpected and sudden entry into providing care, you might be wondering who your fellow caregivers are. Family caregiving is an activity that knows no bounds. It cuts across all ages, genders, races and ethnicities, and relationship types.
Here's a look at the state of caregiving today.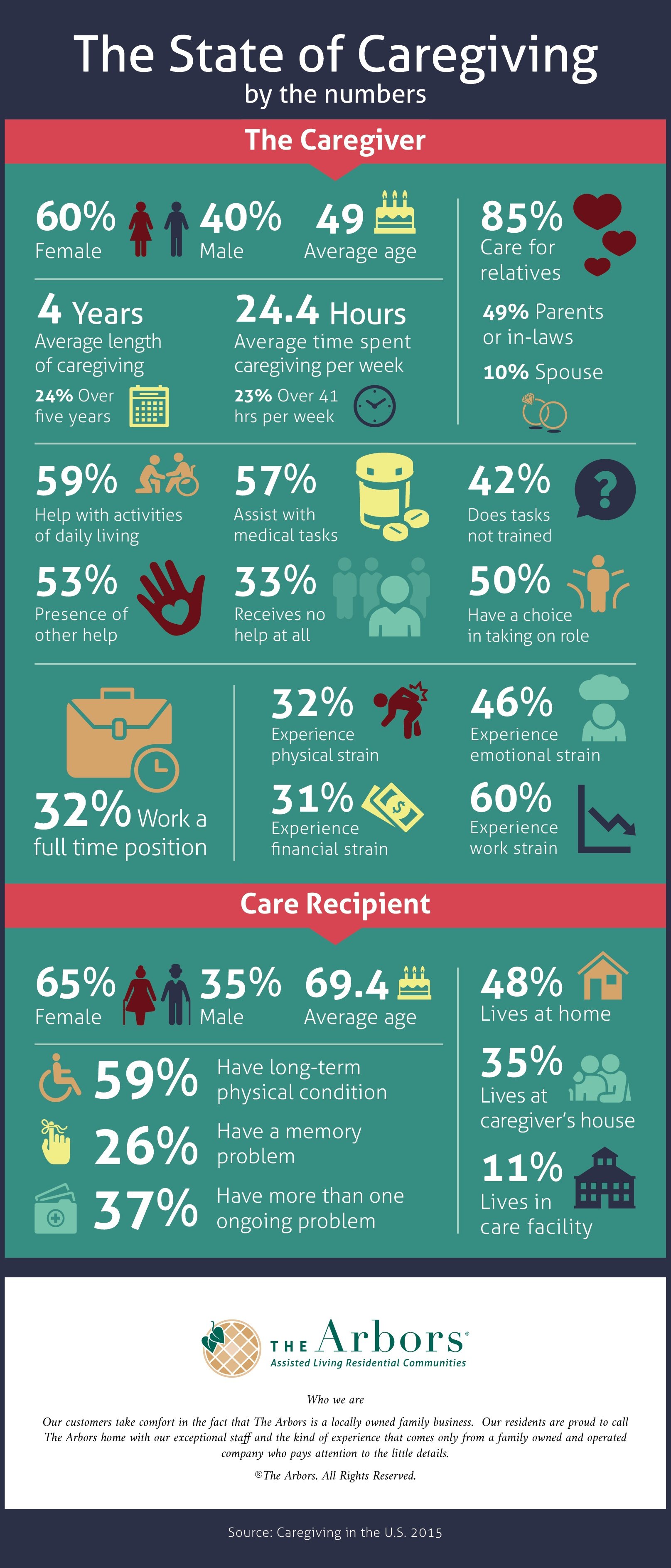 So What Does This All Mean?
Every aspect of a family caregiver's life is affected by their role, whether it's one they chose or not. Some say caregiving has made their health worse. Others have had to give up working entirely to provide care for a loved one. More than 8 out of 10 caregivers say they could use more information or help on caregiving topics.
If you'd like to learn more about the true costs of being a family caregiver, common family conflicts that can occur when caring forparents, and some of the unexpected challenges of caregiving, download our "11 Most Common Caregiving Challenges" eBook.